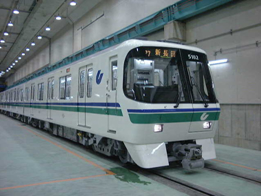 The kobe municipal subway opened in March 1977 with the 5.7 km Shin-nagat – Myodani section in order to establish a convenient means of transportation for the people living in the New Town.
Subsequently the line was gradually extended and a decade later, in March 1987, the 22.7 km Seisinn-yamate line opened. Furthermore a reciprocal through service was commenced with the opening of the Shin-kobe – Tanigami section of Hokushin Kyuko line.
Kobe's second subway line, the 7.9 km Kaigan line, known as "Yumekamome" opened in July 2001.